Regular price
$217.99 USD
Regular price
$280.00 USD
Sale price
$217.99 USD
Unit price
per
Sale
Sold out
CompassArmor Ultra Thin Kevlar Body Armor T shirt Vest Level 3A
**Fast Delivery: Estimated at 4 - 6 weeks!
Concealable T-shirt vest body armor are designed to protect the user's torso from pistol and handgun fire while remaining inconspicuous to others. These bulletproof vests are typically worn under the uniform allowing the end-user to stay protected while maintaining a professional appearance.
CompassArmor is a leading manufacturer and supplier of concealable armor to security, law enforcement, and military personnel. We have a large assortment of ballistic vests suitable for everyday duty wear. All of the vests we carry offer NIJ level IIA, II or IIIA protection equipped with ballistic panels constructed of aramid fibers such as Kevlar and PE.
The CompassArmor Concealable Body Armor T shirt has been designed to perfectly fit the shape of the body and provides the users with front, back ballistic protection. The CompassArmor Ultra-lightweight body armor T-shirt is an enhanced version of the Concealable Vest which can be worn under your clothes.
Find out the difference between concealable and overt body armor so you can choose which is perfect for your use case. 
Product Features:
Ultra-Thin T-shirt

100% flexible

Ultra Lightweight

Thermo Regulating

Easily washable

Shock Absorbing

CompassArmor concealable body armor t-shirt

provides the ultimate combination of protection and comfort
What are the protection area?
Size: S-XXXL, adjustable

Protection area: 0.12, 0.14, 0.15, 0.17, 0.19, 0.21sq.m.

Unit weight: about 0.9, 1.0, 1.1, 1.25,1.4,1.5kg;

Color: Black & White, etc.

Standard: NIJ IIIA

Ballistic body armor Panel Material: Armored aramid Kevlar T-shirt fabric; Front & Back protection;

Material of Shell: Polyester, Oxford, Cotton or requested Fabric
To our Scandinavian customers or to those with long upper body: we recommend that you buy 1 or 2 sizes larger than our chart. If you are unsure of your size or need help deciding, feel free to message us for help!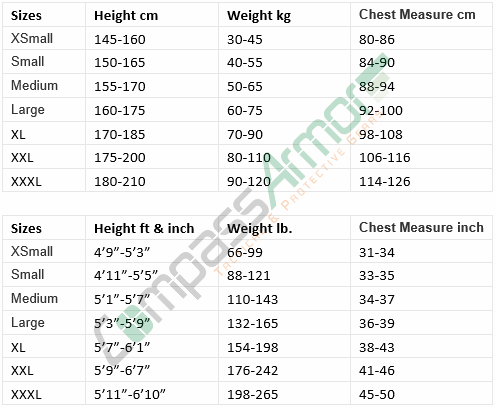 Who can order a bulletproof vest from us. We can ship vests to 49 states (not Connecticut) and internationally. Unless you have a felony conviction, you can legally order and own a bulletproof vest. The law does not limit your ability to be safe.
Who buys bulletproof vests. Bulletproof vests are popular for police officers, personal security, journalist, investigators, pawn brokers, gas station attendants, avid shooters, hunters, and anyone else who wants to protect themselves from public shooting or terrorist attack.
Why is it a vest? The bulletproof vest has evolved into a vest shape to protect your most vital organs and keep you alive if there is an incident. Soft body armor is most comfortable when it is lightweight and you can move freely. For these reasons, a vest without a collar is the best configuration.
Guarantee Period: the Ballistic panels are in 5 years warranty.
Share
View full details