Regular price
$399.00 USD
Regular price
$520.00 USD
Sale price
$399.00 USD
Unit price
per
Sale
Sold out
Protection Group Denmark MICH2000 Level IIIA Ballistic Helmet

**Due to the high demand of this product, please allow 4-6 weeks for delivery.
*This Bullet Proof Helmet Can Be Shipped Internationally! 
MICH means the bulletproof helmet has Modular Integrated Communications Helmet. This means that it is fit for the communication equipment under the helmet, which the PASGT helmet does not have. At the same time, the MICH 2000 has a low cut, which provides maximum protection rea and offers you full NIJ IIIA protection up to a .44 magnum and V50 tested according to STANAG 2920 at 680 m/s.
The MICH 2000 weighs only 1.22 kg / 2.7 lbs., giving you an extremely lightweight, bulletproof helmet that provides protection against some of the most advanced handguns due to its low cut. The helmet has a 4 point suspension system that can be adjusted to the user and a harness system that consist of 7-soft foam pads, which offers comfort and protection from blunt force trauma.
Product Specifications
NIJ IIIA against .44 magnum and .357 SIG 
V50 tested at 680 m/s according to STANAG 2920
Can be upgraded from straps to PGD-dial clamping system.
Can be upgraded to PGD 10-pad helmet liner for extra comfort
100% Kevlar aramid from Dupont

Size L and XL 
From 1.22 kg / 2.7 lbs.
MICH 2000 The helmet is coated with Polyurea Spray paint, which protects against UV light, water and liquids so that your bulletproof helmet does not lose its ballistic properties.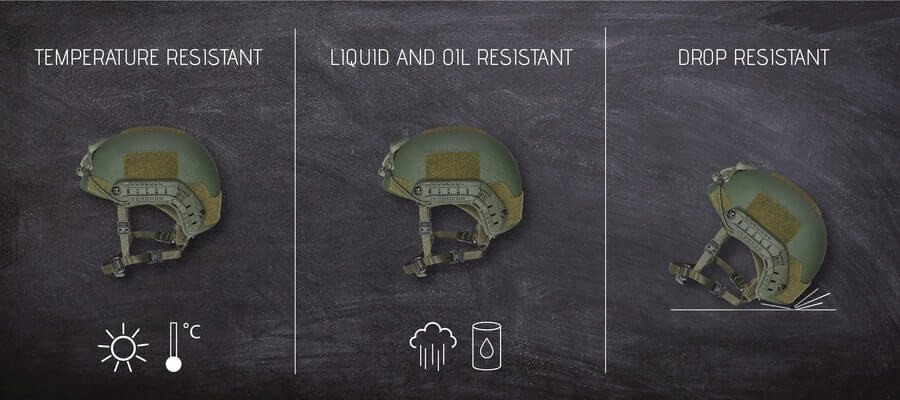 Below is a test of Protection Group Danmark's ballistic helmet tested against .44 Magnum, 40 S&W, .357 SIG and 9 mm.)

Share
View full details